Talks and Workshops
Are you planning your programme for 2022 ? If you are, then look at the list of talks and if anything interests you let me know. Meanwhile, I am missing giving talks and lectures and meeting lovely groups, but am keeping my mind active by writing a blog just about everyday things and topics that interest me. You can find my blog HERE.

If you would like me to give a talk to your group or organisation then please contact me to arrange a date and find out my fee. I can also lead a workshop for small groups on historical themes. I am located in North Yorkshire.
Recents workshops have been

Travelling Back in Time - looking at transport
The History of Holidays
Leeches , Lumps and Lice - what diseases our ancestors suffered from and the remedies they applied.
Delving Into Archives - a useful workshop which can be adapted to cover a theme e.g. in conjunction with a small museum or local history group

Talks
most of these have been written for local organisations, and many are about the dales. Talks last an hour. At LAST (not before time some would say) I am moving into the digital age and am just starting to write talks with powerpoint presentations. I know that some audiences actually like a speaker that does not use PPP, but just in case you do I can now offer a choice !

Out of the Coverdale Cupboard - How I started in research, investigating some documents in a cupboard. Presentation with images , requires a screen.
Amelia and the Industrial Age. This follows a Yorkshire girl born in 1829 through her experiences to her death in 1907. She was born into a merchant family, made her own way in life, married twice and made it into the twentieth century and the modern age. Amelia's life illustrates the progress made in industry and society over her lifetime.
Networks of Faith. Following the servants of Roman Catholic households reveals intricate and complicated networks which allowed servants to travel, often long distances, gain promotion, marry other servants, and remain within the protection of their employers.

London Links - Yorkshire folk who moved to London, how they go there, what they did, how much money did they make ? This is a piece of ongoing research into links between London and the Yorkshire dales. Presentation with images, requires a screen

 In Holy Charity - looks at local charities which had an important influence on the community, apprenticeships, almshouses, doles to the poor, education etc
Ladies of Letters - extracts from diaries and letters of ladies in the past which gives a glimpse of their experience of marriage, child bearing, work.
 Hark, Hark, the Dogs Do bark - stories of beggars in the 18th century  who were apprehended and sent to  the North Riding Quarter Sessions - some quite amazing stories of adventure.
 Being Sick in Body (but perfect in remembrance) - a look at life through people's wills. Not at all morbid, it reveals many aspects of life.
 Caught in Chancery - the story of Jane. This is the tale of an 18th century dales girl, whose life could have been lived in total obscurity had it not been for a court case, when every aspect of her life was recorded in the court papers. This talk is quite long and lasts over an hour, but is totally absorbing.
The Great Grazing Country of the Children - this is about the phenomenon of the Yorkshire / London schools which proliferated along the Yorkshire / Durham / Westmoreland borders, and then disappeared after the publication of Nicholas Nickleby.
 Passing Through Yorkshire - a light hearted look at God's Own County through the eyes of visitors passing this way, ranging from the 16th to the 20th centuries.
Polly put the Kettle on - the influence of TEA, from a luxury to a political symbol. This talk explores the influence of drinking tea from high class drawing rooms to the Temperance Movement.
The  Humble Servant. A look at the lives of servants, high and low, male and female, in a world that has now disappeared.
Jack and Jill. How many old remedies can you remember to cure ailments? Did any of them work? Have you ever used vinegar and brown paper? or a raw onion? bicarbonate of soda? or any number of household items that had curative powers? See what our ancestors had to rely on as home remedies.

email me
to book a talk or a workshop.
Talks in progress

I am currently working on "From Bradford to Barningham" based on the war time experiences of a Land Girl. This talk will not be ready until 2022.
Also in the pipeline, a Talk on "The Governess". A character so often portrayed in Victorian fiction, sometimes in the shadows, but there. So what was her life like and who was she? Looking at examples of Governesses, some did very well, and others did not.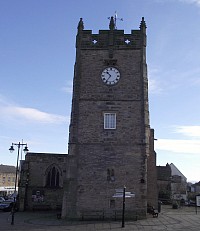 Holy Trinity Church, Richmond
If you would like a guided town walk around Middleham or Richmond email me . It is my delight to share these lovely places.